Several years ago I was asked to submit a chapter to a book, the title was going to be something like "My favorite teacher." This seems to be an early draft o
f what I wrote:
* * *
Back in the day, I was the co-editor of my high school newspaper. For 2 years, I also wrote a monthly column, "Casey's Corner."

Whenever I sold the paper, I offered two versions of the same edition:

Unsigned by me: $.25
Signed by me: $.50

I got very few takers for the signed copies. In fact, some felt that I would be damaging the paper by putting my autograph on it, so I should charge them less than $.25.

People who think I'm arrogant now should have met me in my younger days! "If I were you," I'd confidently tell people as I signed the column, often against their will after they refused to pay $.50, "I'd save that paper. It only cost you $.25 today. But it is going to be worth millions of dollars one day."

As I said, I got very few takers (thanks Ralph! You too, Claudine!).

No one ever asked me if I was saving signed copies myself...

* * *

I had my first ever book signing in 2003. It was for the release of the book,
Educational Freedom in Urban America
. C-SPAN even came out to cover it.

Here's the link to the
book forum
. I've heard that it will be on C-SPAN within the next few weeks. That would be my second time to be featured on C-SPAN. The other time I was scheduled to debate DC delegate Eleanor Holmes Norton, but she canceled that morning, allowing me to talk for 30 or 40 minutes without opposition.

I was praised by just about everyone at the event, including Secretary of Education
Rod Paige
. We were talking quite a bit at that time, I was delighted when he accepted my invitation to speak at the event.

After the event, I walked upstairs to the luncheon. Then someone walked over to me, holding the book, and asked the magical question that I wasn't expecting: "Could you sign my book?"

I've been at many book forums, at which I've gotten autographs from other people. But it was my turn. I signed it. Then several others approached me, pen in hand. I realized that I didn't have any cool lines or philosophical sayings ready. I guess that I'll have to edit or write another book...

* * *

It is sad that I can't share this with the teachers who had a major influence on getting me into writing. I vividly recall the day that my 9th grade English teacher slipped me a note at the end of class one day near the end of the year. It was more of an order than a request: "You are a great writer. Go see the journalism teacher. I've signed you up for the school paper."

So that was it. She believed that I should be on the paper. I remember walking to the office, dazed, and reading the note over and over again, to sign up for journalism as an elective. I can't say that I was entirely surprised. I enjoyed writing. I recall entertaining my classmates with my stories during creative writing time. I guess that Ms. Robertson, who I had a crush on, was really chuckling, too.

But I hadn't really considered joining the paper, it just seemed that other people did that. A few years ago, I called, then later stopped by the first high school attended. The folks there couldn't recall a Ms. Robertson and said that they couldn't locate any records. I guess that it would have helped if I could have recalled her first name. To me, she was Ms. Robertson, so I may not have ever known. I'll be going back home this summer, so I'll try again, this time, with her name that I've gotten from an old yearbook.

* * *
Although I can be rough in many ways when dealing with people, I tend to be a softie when young people come to me, asking for advice. I can remember Mrs. Robertson giving me advice, so I hope some of them can tell a positive story about me one day.
Of course, I also give advice to some who may not be looking for any. They may also say something nice about me one day.
*

Ms. Robertson was the first to get me thinking about a career in writing. The journalism teacher at the second high school that I attended was my true mentor.

My family moved a few miles to a new home. Due to the wonder of school zones, I transferred from a predominately black to a predominately white high school. My basketball skills seemed to improve overnight, but my class ranking went down in the process.
I was brand new to the school, but the new journalism teacher, Mrs. Flowers, quickly offered me a spot as a columnist on the school paper. I believe that it was because of our early creative writing assignments. I had suggested, in one of the assignments, that we change the name of the paper from "Viking Venture." I had wanted something more action-oriented, like "Viking Invaders!"

I hadn't thought about it at the time, but I now realize just how bold that may have been for her to name me a columnist. I was the only black student on the paper. I was brand new to the school. She was also brand new to the school, having replaced a very popular journalism teacher who also wrote a column for the local paper. I wasn't a particularly great student. I'm sure that I aced two classes during my high school years--P.E. and Journalism. I'd bet anyone an adverb for lunch that I had serious grammar problems at that time. Plus, I was relatively quiet. Worst of all, I wasn't a senior, which for anyone who has ever been a senior knows how important that is.

Yet, there I was, sounding off on various issues every month on page 2 of the school paper. In addition, I also wrote news and was advertising manager of the paper. I loved my job as advertising manager. I seemed to be a great salesman for the paper, preferring to visit local businesses rather than just calling or mailing them. As advertising manager, I had the freedom to write and to shake down local businesses for ads. But if I knew then what I know now! To boost our advertising budget, I would have threatened to write negative articles on businesses that didn't advertise in the paper...

* * *

The next year, I was made co-editor and resumed writing my column. There apparently was some controversy about my becoming co-editor. Some of the black students and even some of my relatives thought that I should have been editor-in-chief, and they complained that I might have been discriminated against. The reality is that Mrs. Flowers had talked me into taking the position. I just enjoyed writing, I wasn't interested in managing others.
Through it all, Mrs. Flowers was my biggest fan. My girlfriend at the time was probably a close second. After that . . . did I mention that Mrs. Flowers and my girlfriend at the time were my biggest fans?

In college, I joined the school paper. I sent some of my first articles to Mrs. Flowers. She praised me, she seemed to be overjoyed, but I also recall that she wanted to correct my grammar problems and to talk about how I could have better phrased some sentences. She was always teaching me, while praising me and letting me know that even though I had done well, I could always do better.

I went on to have my own sports column when I was in college. I remember calling Mrs. Flowers and telling her that I was no longer "Casey's Corner." I had graduated on to "Casey at the Bat." She cried when I called to let her know that I was graduating from college.

Unfortunately, Mrs. Flowers passed away while I was overseas, so I never saw her again after high school. I wasn't able to share with her when, as a policy analyst at the Cato Institute, I finally got published in big-time papers like USA Today, the Washington Post, and Education Week. Years later, BlackMenInAmerica.com asked me to write a monthly column. The owner of the site suggested, "Why don't we call it Casey's Corner?"
I told him he was a genius, and I wrote it for about two years.
I'm sure that Mrs. Flowers would have enjoyed my first book. She probably would have even humored me by asking me for my autograph after redlining typos or pointing out sentences that I could have written in a better way...

CJL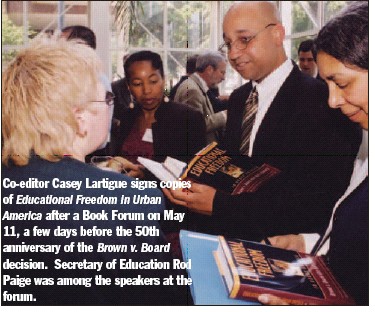 If I were you, I'd save this post...